Are you planning to travel overseas with your kids this summer?
Staying in other countries is a wonderful new experience for children.
But, it might be not so easy to choose place that is good for you and your kids .
To help you plan your vacation, we picked up the top places in Asia which is good for your family to visit.
Please check which one will suit your interest and activities planned for the kids and whole family.
Destination 1- Malaysia
Malaysia is one of the most visited destinations to travel with kids here from Cambodia.
Because it is easy to get there.

Just less than 2 hours flight to Kuala Lumpur from Phnom Penh.
There are 4 flights per a day schedule and mainly from Malaysian Airlines and Air Asia.
also new carrier will start service soon.
Please check airlines for flight before you plan, schedules may vary.
Even Malay people use their own language (Malay), there are many signage written in English in big city.
Many local people can speak English especially those working in tourism and hospitality industry
Malaysians are very relaxed, warm and friendly.
You and your whole family can enjoy Malaysia's mixed culture and nice food.
Visa Info:
If you are a Cambodian Citizen or from any ASEAN countries, not to require to apply visa.
You can stay there up to 60 days.
Place should visit with kids:
Aquaria KLCC is an oceanarium located beneath Kuala Lumpur Convention Centre within Kuala Lumpur City Centre.,
Situated on the concourse level of the Kuala Lumpur Convention Centre.
Aquaria KLCC are a world-class aquarium that showcases animals and various types of colorful marine life species from Malaysia and around the world.
Perfect for: 3 years above
Why we love it:

Aquaria KLCC is a very well designed aquarium with over 250 different species and over 5000 marine and land animals from all over the world.
The highlight is the giant glass tank with travelator at the bottom of the tank which gives a wonderful feeling of close contact with the marine animals under the sea.
Make it happen:
The nearest station to Aquaria is the KLCC Station.
About 10 minute walk from the station, you can follow the signage to AQUARIA KLCC.

KL Aquaria is close to the Petronas Towers, but it's hard to find from there.
The easiest way is from KLCC Suria shopping centre.
When you are in the KLCC Suria shopping centre, please take a escalator to the basement of KLCC Suria.
When you reach the basement, you can turn around and walk for about 25 meters until you see a sign at the ceiling "KL Aquaria".
Then go right and follow a long pedestrian tunnel.
About 10 minute walk, you will reach an underground car park.
Cross this car park and walk towards to a little food court.
From there, it is only 25 meters to right till you reach the Aquaria KLCC.
Address: Kuala Lumpur Convention Centre, Kuala Lumpur City, 50088 Kuala Lumpur,
Wilayah Persekutuan Kuala Lumpur, Malaysia
Opened: 2004
Opening hours: 10 AM-8PM
Phone: +60 3 2333 1888
Petrosains is an interactive 7000 sqm science discovery centre located on the fourth floor of Petronas Twin Towers.
The concept of this museum focuses on Science and Technology of the energy industry.
They presented the petroleum science in a very entertaining way, plus they have a café and gift shop for their visitors.
Perfect for: 5 to 12 years
Why we love it:
Even kids are not so interested with Science, but once they visit there, they will love science b by seeing,
touching and experiencing the experiments right in front of them.
Kids will get to imagine, experience, discover about science through a mixture of role-play and hands-on tinkering.
Make it happen:
The place is located on level 4 of Suria KLCC Shopping mall.
If you will use train (RapidKL LRT), you may stop at KLCC Station.
(same station to go Aquaria KLCC)
Address: Level 4, Suria KLCC, PETRONAS Twin Towers, 50088 Kuala Lumpur, Malaysia
Opened: 1999
Opening hours: Tuesday-Friday 9:30am–5:30pm Last Admission:4:00 pm
Saturday, Sunday & Public Holiday 9:30am–6:30pm Last Admission:5:00pm
Monday CLOSED (except on Public Holidays and School Holidays)
Phone: +60 3 2331 8181
Legoland is Malaysia's first international Theme park located in Johor Bahru, just across the causeway from Singapore.
Besides the Legoland, you will enjoy other Lego-themed attractions such as Legoland Theme Park, Legoland Water Park within the same area.
Perfect for: from 2 years old
Why we love it:
Lego lovers should go there and you see Lego everywhere!
Even if you are not a Lego fan, you will be impressed by Lego formations in this park.
This place is a whole land of Lego structures and people sprinkled across the park.
Make it happen:
[From Singapore] By Bus, taxi
Legoland is just across the causeway from Singapore and there are several ways to get there from Singapore.
You can ride a public bus if you do not mind much about time. This is the cheapest way and will only cost you 6 SGD.
It will take approximately 1 hour ride from Woodlands Checkpoint where the border is located.
You may also use a private bus tour which is faster than public bus and more comfortable.
Advance booking required by online. The cost of private bus is SGD 20-25 per person (round-trip).
If you do not mind to pay 170 SGD per way, comfortable taxi from Singapore another choice.
You do not need to get off the vehicle to clear customs.
[From Kuala Lumpur] By Bus (Causeway Link KL).
There is a direct bus service from Swiss-Garden Hotel & Resident Kuala Lumpur -near Bukit Bintang to Legoland.
Bus departs at 7:00 am and leaves Legoland at 6:30 pm.
Legoland is more than 300km south of KL and is not suitable to be done as a day trip especially if you go with kids.
We recommend to be combined with a trip to singapore if possible.
Where to stay:
When you visit to Legoland, we highly recommend to staying in The LEGOLAND® Hotel which set at the entrance to the Legoland Malaysia theme park.
Legoland Hotel is a hotel for kids.
Address: 7, Jalan Legoland, Medini, 79250 Nusajaya, Johor, Malaysia
Opened: 2012
Opening hours: 10:00-19:00
Phone: +60 7 597 8888
Destination 2- Singapore
Another popular destination in asia with kids is Singapore.
Singapore is just 2 hours away from Phnom Penh.
There are many direct flights from Phnom Penh operated by Silkair and Jetstar.
The most frequent flights are every Monday and Tuesday (5 flights a day). Tuesday, Thursday, Saturday and Sunday all have 4 flights per day and 3 direct flights on Wednesdays.
Singapore is the most developed country in South East Asia and is 5th of the most visited place in the world according to World Tourism Organization.
Although it is a very small country, (719.1 km² and just a bit bigger than Phnom Penh) they are quite a few well known world class attractions and theme park.
Singapore is a very clean and safe country, You can bring kids and walk along the street without worries.
Since local people are using English as their official language making it easy for tourist to communicate.
Visa Info:
If you are Cambodian Citizen and holding valid passport (6 mos. prior expiry).
You do not need a visa up to stay 30 days.
Place should visit with kids in Singapore
Sentosa Island is an island resort located in Singapore's Southern Coast, Connected to the city by road, cable car, pedestrian boardwalk and monorail.
It is just 10 to 15 minutes drive from the city to get there.
The island can be categorized into 3 areas.
The nearest from the gateway of Sentosa is the Resorts World Sentosa, here you can find famous theme parks, casinos, and theme hotels.
Next is the middle and southern beach part of Sentosa which area was developed first in the island.
There are many attraction there. In the Eastern part is the residential area called Sentosa Cove.
There are lavish yacht clubs, bungalows, and condominiums.
Most of the landed houses there has their own yacht docking space.
We are going to introduce few places from the two main part of Sentosa which you can visit together with your kids.
Resorts World Sentosa is an integrated resort on the island of Sentosa,
The entire resort occupies over 49 hectares of land with exciting attractions such as Universal Studios, S.E.A Aquarium,
Adventure Cove Waterpark, Dolphin Island.

Universal Studio singapore
Universal Studios Singapore is a world-class theme Park.
It is the first and only Universal Studio theme park in Southeast Asia.
There are 24 movies-themed rides and attractions, 8 of which are designed exclusively for Singapore.
S.E.A. Aquarium
S.E.A. Aquarium is one of the largest aquariums in the world. There are more than 100,000 marine life of over 800 species' home.
You can meet very interesting creatures like the leopard shark, Goliath grouper and squadrons of manta rays there.
Adventure Cove Water Park
Adventure Cove Water park is a water fun playground which holds 14 rides and attractions.
It was rated as the top 10 water parks in Asia
The park could be divided into three categories: Adventure rides, non-rides and ultimate marine encounter.
You can enjoy playing in the lazy river where you will see the fake bats, stingrays, the tunnel of fish and talking dolphins.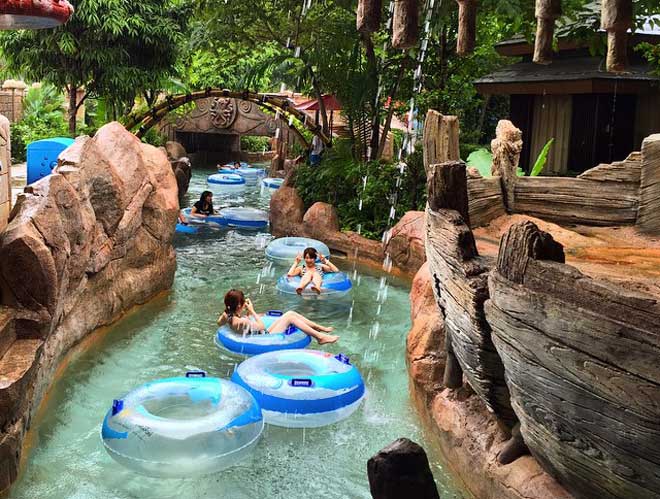 Perfect for: Whole family and individuals of all ages.
Why we love it:
Resort World has several attractions which can enjoy by young child to adult.
There are shows, water parks; museum, shopping centres and a range of culinary experience every visitor.
Numerous restaurants and cafes are available for every different kind of meal.
There are also some free shows such as Nightly crane dance and lake of dreams.
Make it happen:
Resorts World Sentosa is the nearest part of Sentosa Island from Harbourfront MRT Station.
To go there, you can use a taxi, monorail (from Vivo City station and please get off at Waterfront Station).
If you want to go on foot and really love walking, you can use the pedestrian boardwalk from VivoCity to reach the place.
To use Cable car is another choice. So you can enjoy the view from a hill to sea.
But you have to riding another transportation after getting off Cable Car.
(because there is no station nearby Resorts World Sentosa).
You may board from Harbourfront Cable Car Station and stop at Imbiah Station, then go back to Resorts World Sentosa.
Address: 8 Sentosa Gateway, Singapore 098269
Opened: 2012
Opening hours: S.E.A. Aquarium:10:00-19:00
Adventure Cove Water Park:10:00-18:00
Universal studio :Open daily at 10am.Closing time varies. please check WEB site
Phone: +65 6577 8888
Where to stay: There are more than 15 hotels in Sentosa island.
There are 6 hotels operated by Resorts world sentosa.
One of the hotel is just 4 minutes' walk of Universal Studio
Price range from $200USD to $2000 USD per room per night.
Other than Resort worlds of Sentosa, there are many attractions in sentosa island such as
Mega-adventure park, KidZania singapore
Kidzania Singapore is an indoor family educational theme-park where its size is over 81,000 square feet.
Through the partnership with real-world international and local brand, children will be able to live an adult life by experiencing different professions,
how a city works, financial literacy and learn life skills.
These different role-playing activities will offer learning experiences to help children build up their confidence,
develop life and social skills, and gain greater awareness of social values.
2.
Zoo-Night Safari, River Safari and Singapore Zoo
In the same area of Southern part of Singapore, you can find 3 amazing and large zoos namely Night Safari, River Safari and the Singapore Zoo.
These are all managed by the Wildlife Reserves Singapore.
Singapore Zoo



Singapore Zoo has been known to have among the most beautiful settings in the world, where animals roam freely in open and natural habitats.
28 hectare covered with tropical rain forest which showcases more than 3000 animals of 270 living species.
We can see animals not through the cages and fences.
They used planting and water ways well to divide human and animal zone naturally.
It allows visitors to take attractive pictures of animals without presence of cages anywhere.
Address: 80 Mandai Lake Rd, Singapore 729826
Opened: 1973
Opening hours: 8:30-18:00
Phone: +65 6269 3411
Night Safari

The Night Safari is the first Nocturnal Zoo in the world and is one of the most popular tourist attractions in Singapore.
This 100 hectares zoo has about 130 kinds of night animals.
You will appreciate seeing more than 1000 nocturnal animals that we can not easily see at daytime.
You can try different ways to enjoy such as going through the middle of walking animals by riding a tram and watching nocturnal animal shows.
Address: 80 Mandai Lake Rd, Singapore 729826
Opened:1994
Opening hours: 19:30-24:00
Phone: +65 6269 3411
River Safari
The River Safari is a river-themed zoo and aquarium located in Singapore.
The River Safari features replica of the 8 big rivers around the world and has the largest scale zoo for freshwater animals.
Their 12 hectares zoo houses 500 animals and fishes of 300 different kinds.
You may also see a giant panda in the area of Yangtze River.
In April 2014, they opened "Amazon River Quest Boat Ride" an eye catching attraction that allows visitors to experience an artificial river ride and see close animals living in Amazon River.
River safari is built on the national scale in the land water animals living on waterside.


Address: 80 Mandai Lake Rd, Singapore 729826
Opened: 2012
Opening hours: 10:00-19:00
Phone: +65 6269 3411
Make it happen:
There are several ways to get to Singapore Zoo from the city centre.
By taxi : this it a convenient way, especially for family with small kids.
The cost of taxi from city to zoo is 25$ – 30$ and approximate travel time is from 25 to 30 minutes.
By shuttle bus: the service operated by Singapore Attraction Express Bus (SAEX). Their two-way trip is for 11SGD (adults) and 7 SGD (child).
The starting pick up time is at 8:55 am at Coach Bay outside Singapore Botanic Gardens for Blue line.
The starting pickup time for Orange line is 9:00 am at Bus-Stop B02 (01319) opposite V Hotel Lavender on Kallang Rd.
The bus stops just outside Singapore Zoo.
By public bus: service from Ang Mo Kio MRT station (Bus No. 138) to Singapore Zoo.
To Singapore Zoo will take about 30 minutes.
The travel time from City Centre to Ang Mo Kio Station is about 30 to 40 minutes.
Where to stay:
They are located north part of Singapore about 25km away from city area.
We recommend to stay in city area so you can enjoy shopping and local food there.
Destination 3- Japan
You can now easily travel to Japan!
All Nippon Airways launched its direct flight to Japan from Phnom Penh in 2016.
It makes you easy from Cambodia to visit Japan.
You may see and experience a beautiful culture of Japan and do fun activities in some of their popular tourist attractions.
Visa Info:
You have to apply for a Visa to visit Japan. Traveller agent will help you so please check with them.
Place should visit with kids:
The Tokyo Disney Resort is a theme park and vacation resort located in Urayasu, Chiba, Japan, east of Tokyo.
It was the first Disney theme park opened outside the United States.
The Resorts have two theme parks, Tokyo DisneyLand and Tokyo DisneySea,
and three Disney hotels, six non-Disney hotels, shopping complex.
Tokyo Disney Resort is 50km away from Narita airport.
There is a direct but to go there from airport.
Perfect for: From 2 years old and all ages
Why you will love it:

Who wouldn't love to see Disney characters and places coming in real life?
Truly this place is a dream come true for those who love to watch Disney movies and young kids.
There are variety of shops, dining experience and accommodations including the Disney Hotels.
Make it happen:
The easiest way for foreign tourist especially not familiar for Japanese train system, we recommend to use direct bus.
There are many direct bus service from Shinjuku, Tokyo , Akihabara, Yokohama stations.
Also from Narita & Haneda airport are available.

You can check the following site for the other way to get there.
Access to TDL
Where to stay:
There are 3 Disney hotel in the resort and one Disney hotel (for casual stay) is in near Shin Urayasu station (JR).
Other than Disney hotels there are Six Hotels Located within Tokyo Disney Resort.
So you have many choice in the vicinity.
You can check Hotels info from official Disney Website and book your favorite hotel.
Address: Chiba Prefecture, Urayasu, Maihama, 1-1
Opening hours: 8:00-22:00
Phone: +81 45-330-5211
Universal Studios Japan (USJ) was the first theme park under the Universal Studios brand to be built in Asia located in Osaka west part Japan
Perfect for: From 5 years old and all ages
Why you will love it:
Being based on many Universal's popular movie franchises, you will love to enjoy strolling, taking pictures, eating yummy park foods and even riding some thrilling rides with everyone in the family.
They also have the Wizarding World of Harry potter for all Harry Potter fans out there and have a trip to Hogwarts castle.
Make it happen:
Osaka is the second busiest city in Japan, it is quite hard to take public transportation If you are not familiar the system.
But taxi in Japan is quite expensive. Maybe using direct bus is the easiest way to get there.
There are direct bus services from Kansai National Airport & Itami airport, major city such as Tokyo, Yokohama, Nagoya.
How to get to USJ (Japan-guide.com)
Address: Osaka Prefecture, Osaka, Konohana Ward, Sakurajima, 2 Chome-1-33
Opened: March 31, 2001
Opening hours: 9:30-19:00 (Mon-Fri) 9:30-21:00 (Sat-Sun)
Phone: +81 570-200-606
Huis Ten Bosch is a theme park in Sasebo, Nagasaki, Kyushu island Japan.
The name Huis Ten Bosch translates into English as "House in the Woods/bush".
The resort is suffused with a European atmosphere with its lovely canals, windmills, beautiful gardens and typical Dutch architecture.

Perfect for: From 3 years old and all ages
Why you will love it:

You will love to see beautiful place and experience "Small Europe" in there.
They are modelling Holland in Middle Ages with canal, attractions, museums, shops, restaurants and hotels in the place.
Huis Ten Bosch is full of flowers through all season and organises flower festivals.
You could enjoy not only the Tulip Festival but also a variety of flower festivals celebrated every season in Japan.
Make it happen:
There is a high speed boat service from Nagasaki Airport.
This is the most convenient and fastest way to get the resort. (50 minutes, 1960 yen)
Other services are
From Fukuoka airport: by direct bus
From Hakata/Nagasaki station: by JR trains
Where to stay: There are 4 hotels are operated by Huis Ten Bosch. three of them are truly European style.
If you want enjoy to feel european atmosphere, we highly recommend to stay there.
Address: Nagasaki Prefecture, Sasebo, Huis Ten Bosch Machi, 1-1 Japan
Opened: March 25, 1992
Opening hours: 9:00-22:00
Phone: +81 570-064-110
Which place do you want to visit?
We hope that we have shared you useful information and you have chosen the best place to visit on holiday in Asia together with your kids.

You can give the best bonding experience to your children through travelling.
They can feel new places, try things they haven't used to do before and freely see the outside world through visiting an unfamiliar place.
Whenever you travel, children not only enjoy but learn through experience.
So, it is important to choose a place where you can spend quality time at the same time, children will learn new things with enjoyment and fun.
We are try to provide useful information about child and their education.
If you liked our article, please follow us on Twitter; FB and see more news and updates about child's development and learning.
Looking for Enrichment Class for your Child?
Try our Unique Programme!
Inquiry Form